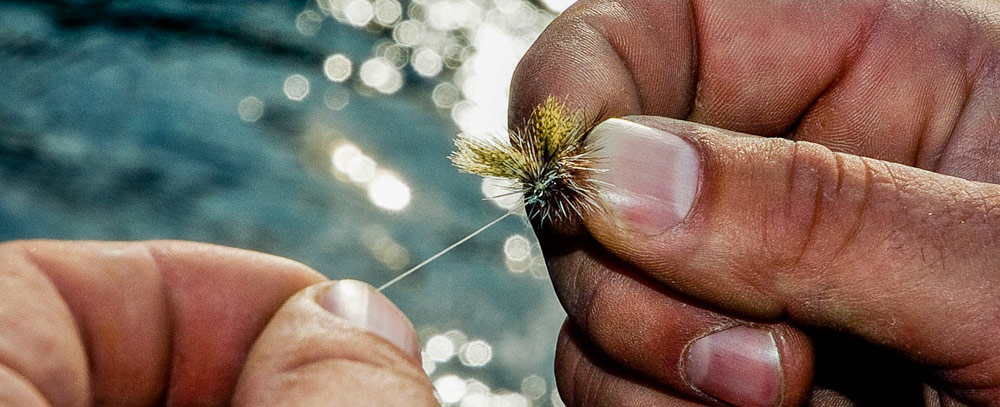 31 Jul

Know Your Knots!
Knot Prepared:
While our well-trained, professional guides will almost always be at your side, on occasion you may find yourself in a position on the river wanting to tie your own rig. Perhaps your guide is stoking a fire for a world-class shore lunch, helping your fishing buddy with a rat's nest, or you're putting in overtime at camp in the land of the midnight sun. Whatever the situation, you're likely to find some basic knot-knowledge beneficial. So fear not my friends; spend a little pre-trip time mastering these four knots and you will be on the road to fishing independence!
1. Improved Clinch Knot
On a day-to-day basis, the improved clinch knot is easily the most common knot that we employ. Used to connect the fly or lure to the line in both fly and spin casting, this knot is an all-time favorite. Being efficient in tying it is a must, so get practicing if your skills are a little rusty.
2. Non-slip loop knot
We love streamers on the Aniak. From stripping large bunny leeches for silver salmon, to dragging sculpins around for trout and char, having a knot that allows for maximum movement underwater is crucial. Hands down, the best knot that we have found to give your fly plenty of wiggle room is the non-slip loop knot. If you're a fan of swinging flies, you're going to want to be able to tie this one in your sleep.
3. Blood Knot
No questions asked, this is the best and most efficient way to connect two pieces of similar sized monofilament or fluorocarbon tippet. Simple, fast, and very effective.

4. Snell
Why do you need to know how to snell a hook, you ask? Let's break it down. The salmon spawn is a gigantic part of the Alaska trout fishing puzzle. Often times beads are employed to fool those large wary trout that seem to turn up their nose at anything else. Sure, you can use any old knot to connect your hook to the line when fishing with a bead, but you may find that on occasion your hook will ride untrue in the water. Typically this happens when your knot shifts it's position around the hook's eye.
Snelling your hook onto the tippet solves this off-kilter hook dilemma. The snell ensures your hook will always ride true, resulting in a drastic improvement in your hook-to-miss ratio.
(Knot images from www.flyfishingconnection.com)